Brief analysis on forging crack and heat treatment crack
---
Forging crack
Forging cracks are generally formed at high temperatures. During forging deformation, the cracks expand and contact with air. Therefore, under the microscope of 100X or 500X, the cracks are filled with scale, and both sides are decarburized, and the structure is ferrite. The morphological feature is that the crack is relatively thick and generally exists in multiple forms, without obvious tip, relatively round and blunt, and without obvious directionality. In addition to the above typical forms, some forging cracks sometimes appear thinner. The crack is not completely decarburized but semi-decarburized.

Heat treatment crack
The cracks generated during the quenching heating process and the cracks formed during the forging heating process are significantly different in properties and morphology. For structural steels, the heat treatment temperature is generally much lower than the forging temperature, even for high-speed steel and high-alloy steel, and the heating and holding time is much shorter than that of the forging process. Due to the high heat treatment temperature, too long holding time or rapid heating, early cracking will occur during the heating process. Cracks are generated along the coarser grain boundaries; there are slightly decarburized structures on both sides of the cracks, and the parts are heated too fast, which will also cause early cracking. There is no obvious decarburization on both sides of the cracks, but there is oxide scale inside the cracks and at the ends of the cracks. Sometimes, due to the failure of the high temperature instrument, the temperature is very high, resulting in a very coarse structure of the parts, and the cracks are distributed along the coarse grain boundaries.

Causes of forging cracks and heat treatment cracks
1. Causes of forging cracks: During the forging process, due to the surface and internal defects of steel material, such as hairline, sand holes, cracks, inclusions, subcutaneous bubbles, shrinkage holes, white spots and interlayers, etc., forging cracks occur. In addition, due to poor forging process or improper operation, such as overheating, over-burning or too low final forging temperature, too fast cooling rate after forging, etc., forging cracking will also appear.

2. Causes of heat treatment crack: quenching crack is a macroscopic crack, mainly caused by macroscopic stress. In the actual production process, for the steel workpiece, structural design is often unreasonable, the selection of steel is improper, quenching temperature is under incorrect control, and the quenching cooling rate is improper. On the one hand, the internal stress of quenching is increased, and the formed quenching microscopy crack grows. The crack propagates to form a macroscopic quenching crack. On the other hand, the sensitivity of the microcrack is increased, the number of microcracks is increased, and the brittle fracture resistance of the steel is reduced, thereby increasing the possibility of quenching crack formation.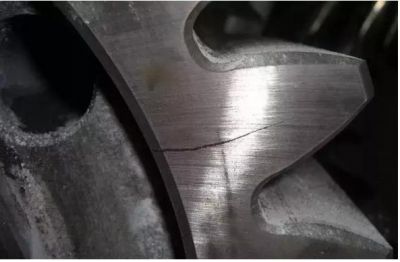 ---